Capitalcity of Mongolia
Capitalcity Ulaanbaatar
1 to 3 days trip in Ulaanbaatar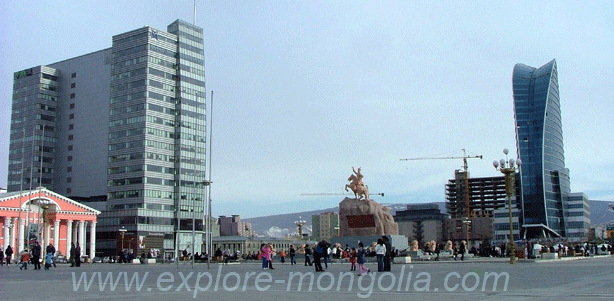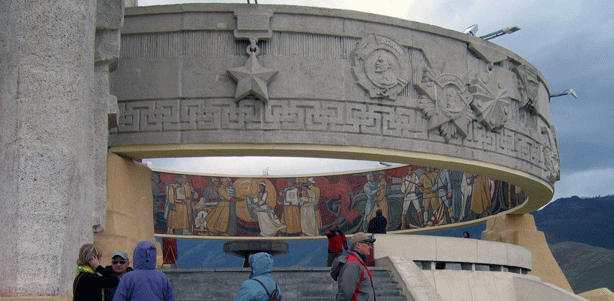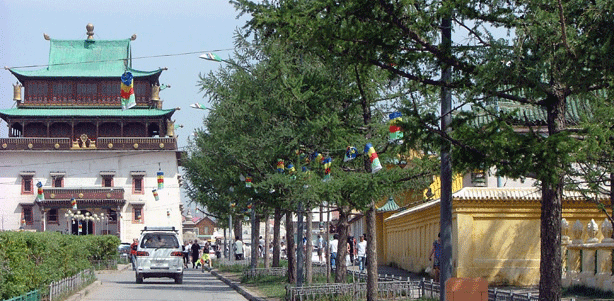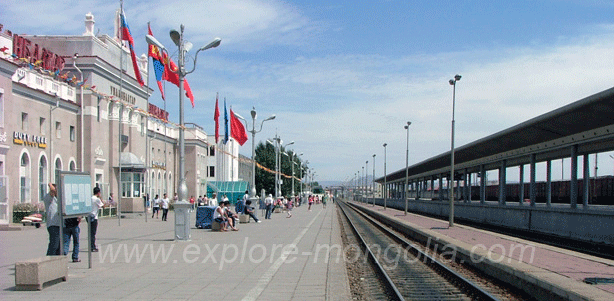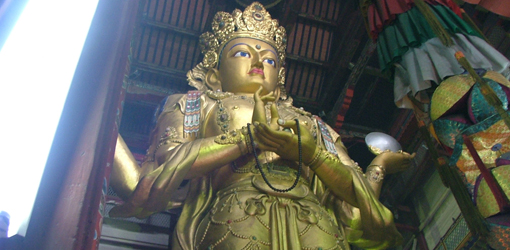 Zaisan Panorama mountain The panorama mountain Zaisan is situated in the south of the city next the Buddha park with the memorial, which is dedicated for unknown Russian soldiers, who were fallen in the different wars. From here you have a good view to the whole city and their environment.
Sukhbaatar place The main square in the heart of the city called Sukhbaatar place, named after the revolutionary leader of 1921. It is surrounded by some important buildings, such as the parliament building, city hall, stock exchange, central post, mongolian opera and cultural palace.
Nature historical museum It has plenty of exhibitions about mongolian fauna and flora, also different minerals and meteorite, camels and dinosaurs. A length of the complete dinosaur skeletons is 15m long.
Zanabazar museum Zanabazar museum has excellent collections according to mongolian kind of thankas, paintings, papmache, wooden carving, buddhist sculptures and including own works of famous artist Zanabazar.
History museum Archeological finds from different ages, rock designs, deer stones from the Hunne- and Uigurtime. You see different ethnic costumes, hat and other things. Much from the mongolian empire and nomads culture, mongolians under manchu dynasty, in socialism also in democracy.
Bogd Khaan's Palace The last emperor Bogd of the 8-th lived for his last 20 years in his winter palace, which was built between 1893-1903. Except the winter palace are some temple buildings, where are you see his religious treasure's. In its winter palace there are some important gifts from high personalities including horse carriage of Queen Victoria and a complete mongolian ger covered by skin of 150 snow leopards.
Gandan monastery The Gandan monastery is called joy-full monastery. It was the largest buddhist center in Mongolia. It was established 1838 and destroyed 1930's partly. In the Avalokiteshvara temple stands the Asian's larges gilded Buddha statue, which is 26.5m high and 90tn heavy.
Choijin Lama Museum It was a temple for states oracle und was dedicated for the brother of Bogd 8-th. During the communist purge 1930's remained without damage. The temple plant consists of 5 temple's with unique valuable exhibits.
State's and drama theatre In summer months there are mongolian folklore for foreign guests each evening. You have possibilities to experience demonstrations of the strange cultural characteristics such as contortion dance, mask dance, thoughts and long song etc.
Highlights
Gandan Monastery, Zaisan Hill, museen, mongolian folklore, black market
Short Itenerary
Day 1 :

City tour

Day 2 :

Visit Museum

Day 3 :

Art and market

Related destinations list

Day 1
City tour includes visit of nature historical museum, Sukhbaatar square, Gandan monastery and the panorama hill. (L/D)
Day 2
Visit of mongolian historical museum, choijin lama museum and mongolian folklore. (B/L/D)
Day 3
Visit "black market" and fine art museum. (B/L/D)

Tour Duration
1-2 nights / 1-3 days
Tour Price
Double Room: USD
Single Room: +USD
All Rates per person (+ GST)
Group Size
unlimited
Recommended time
All saison
Included
* 1-3 day trip from/to Ulaanbaatar
* Guiding in German or English language
* Accommodation Ulaanbaatar at ***Hotel
* Transfers in Ulaanbaatar and all transportation (4WD Van / Capacity 12 seats)
* Welcome-Dinner/ Meals
* Sightseeing tour in Ulaanbaatar
* Visit of UNESCO-Worldcultureheritage, monastry
* Visit of museums in Ulaanbaatar
Not included
gratuity, optional tours and personal extras, International journey, visa fee, equipments and personal spending, single room charge in the hotel, travel insurance, tip, additional beverages and meals.