Worldheritage in Mongolia
The Capitalcity of Great Mongolian Empire
4 days trip to Karakorum, capitalcity of great mongolian empire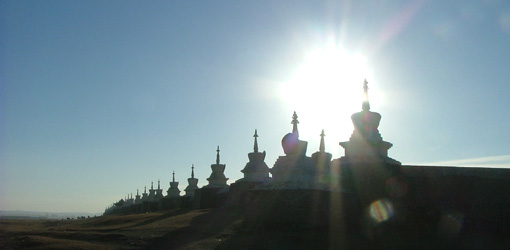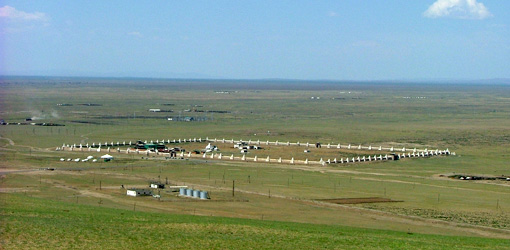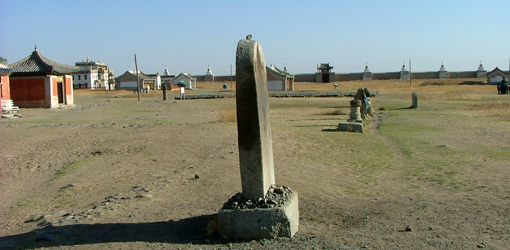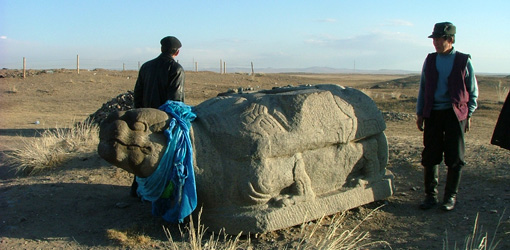 The great Chingis Khaan prevailed at his time the half of world under power of eternally blue sky. He has started to establish the first capital city of Mongolian empire 1227 in Karakorum (now called Harhorin). It was about 30 years long a multinational capital with 2 mosques, 14 buddhist temple's and a church, until Chubilai Khaan moved the capital to Peking. Not only for these time, also it was 13-16.th century an important city of Mongolia. From here we controlled 400 years long the trade of silk road. Kharakhorum was not only first city of Orkhon valley, also the capital of Uigur from the 9-10.th century was here at the Khar Balgas. 1995-1997 researched UNESCO, Japan and Mongolia the ruin from the time and founded, that there was residential area, palace of king, temple, trading firm, army bearing. The Erdenezuu monastery was built as first buddhist temple 1586. 108 Stupas surrounded the monastery. 1792 worked 10000 Lamas in monastery in 62 temple's, 500 house's. 1760, 1803 was it restored and stands since 1944 under state protection. Since 1945 was it maintained one restored. The monastery is the only monastery, which is built after the mongolian traditional town construction. The ruin of Kharakhorum and monastery Erdenezuu belong since 1996 to world cultural inheritage.
This is the place, where you learn about religious and cultural traditions of Mongolia.
Highlights
Hustai National Park, Wild Horses, Erdenezuu monastry, Ruine's of great mongolian capitalcity Karakorum
Short Itenerary
Day 1 :

Hustai National Park

Day 2 :

Karakorum and Erdenezuu

Day 3 :

Bayangobi. Uvgunt monastry.

Day 4 :

Drive to Ulaanbaatar.

Related destinations list

Day 1
Drive to Hustai National Park. Visit of Ungut stone's from 6-8th century and watching of wild horses (Prejewalski horse). Overnightstay at Ger Camp. (L/ D)
Day 2
Drive to Kharkhorin. Visit of Erdenezuu monastery and the ruin of capital city of mongolian empire. Riding possibilities. Overnightstay at Ger Camp. (B/ L/ D)
Day 3
Drive to Bayangobi. Visit the ruin of Uvgunt monastery and a local nomadic family, introducing about mongolian national dwelling ger, the nomadic lifestyle, and try traditional dairy products such as airag (mare's fermented milk). Overnight at ger camp. (B/ L/ D)
Day 4
Drive to Ulaanbaatar. Transfer to ***hotel. After the refreshment of the Mongolian traditional folklore. (B/ L/ D)

Tour Duration
3 nights / 4 days
Tour Price
Double Room: USD
Single Room: +USD
All Rates per person (+ GST)
Group Size
unlimited
Recommended time
From Juni till September
Included
* 4 day round trip from/to Ulaanbaatar
* Guiding in German or English language
* 3 nights accommodation in Ger Camp
* Transfers in Ulaanbaatar and all overland transportation (Car/ 4WD Van / Bus)
* Stop over tour
* Entry fees of UNESCO Worldheritage, museum and folklore in Ulaanbaatar
Not included
gratuity, optional tours and personal extras, International journey, visa fee, personal spending, single room charge in the hotel, travel insurance, tip, additional beverages and meals